Gone are the days of carrying a paper business card, handing it to a potential customer or client, and then finding it thrown away in the bin days later.
Ready to give the best NFC business card a go? Visit our shop.
With so many technological advancements, businesses can now store their contact information on various devices such as smartphones and tablets. The rise of the NFC contactless business card has meant that people can share their details by simply tapping their card on a smartphone.
There are several contactless business cards to choose from in today's market. It can be difficult to decide on one which you as an individual like best, as well as finding one that best suits your company's goals, branding and ethics can become overwhelming.
We believe that Tacta is the best NFC business card for any business in any industry. We may be biased, but you can decide for yourself! Here's a list of all our features that make us stand out from the rest.
Tacta Business Card Features
Update your Information
Tacta card has been built around the user to make networking as simple and enjoyable as possible. Our Online Portal allows users to update their information anytime, anywhere. This means you can tailor your information depending on the networking event you are attending or your target customer.
It also means that if your information changes, for example, you get a promotion or a new email address, you can instantly change your information in the Online Portal instead of reprinting your paper business cards, saving your company time and money.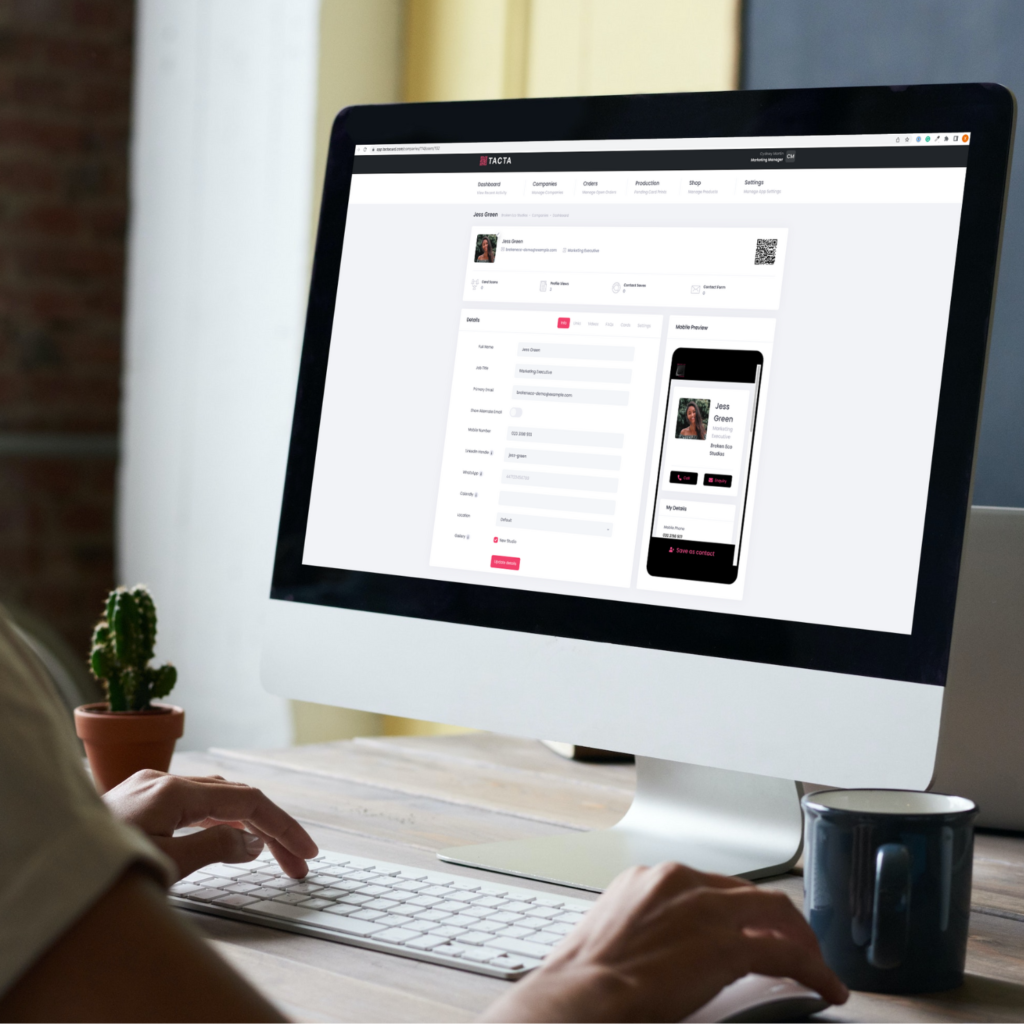 Unlimited Links
With Tacta, you can add unlimited links to your profile. This allows businesses to provide customers with direct access to their website, blog, social media sites, and other external sites.
Other contactless business cards have a limited number of links you can share, which can be restrictive for those with a lot of links to share.
Online Portal Matches your Card
One of our most popular features, and one of our most unique, is that your online portal is matched to your company's branding. When you set up your Tacta account, our team will build your online portal to match your company colours. When you share your details with customers and clients, they can instantly recognise your brand instead of a generic portal like other companies offer.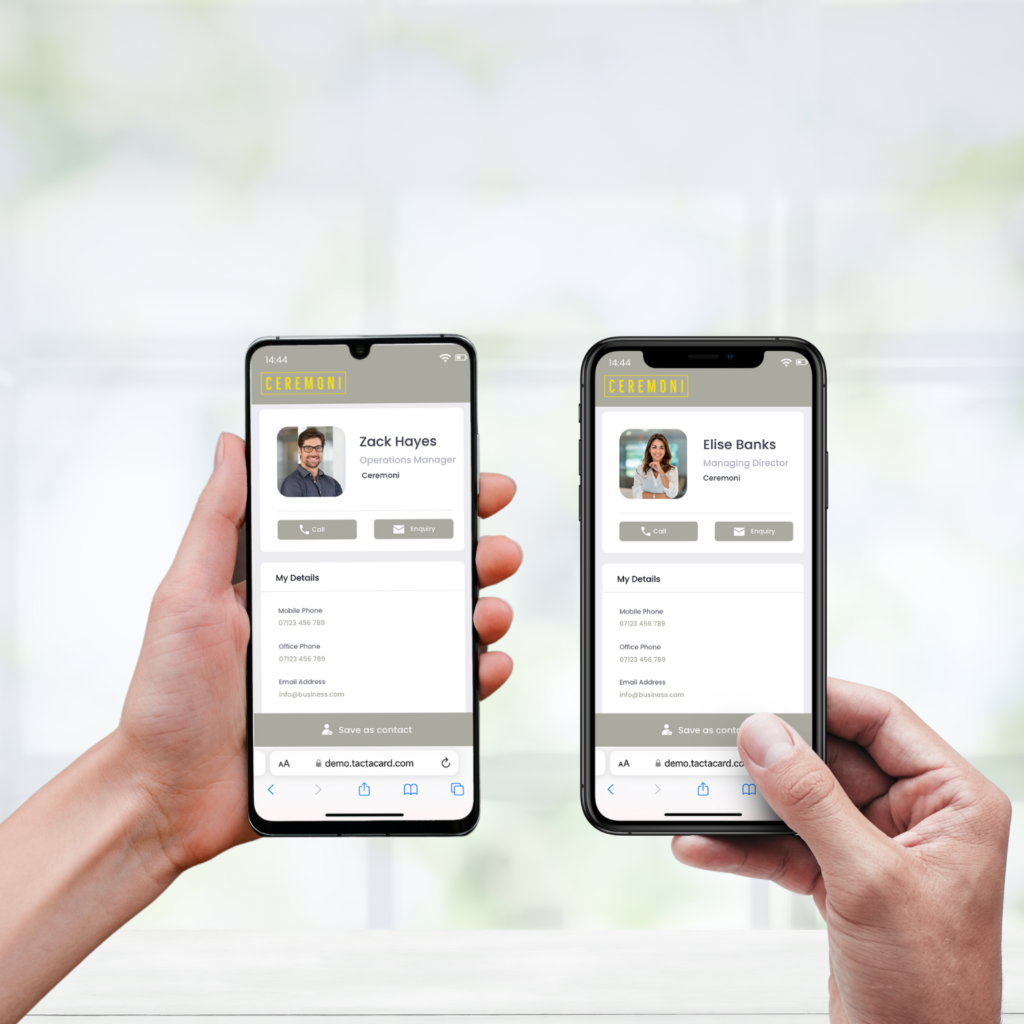 Link Statistics
Tacta's online portal allows users to view their link statistics. Through this portal, users can easily monitor the performance of their contactless business cards in real time. With access to vital information on link usage and customer engagement, companies can make better decisions when targeting potential customers.
Upload Galleries
With Tacta, you can upload image galleries to your profile. This is particularly useful for businesses that wish to show the products they sell to people with whom they share their business cards.
Make Enquires Directly from your Page
With a Tacta card, when people have scanned your business card, they can send you a direct enquiry from your business card page.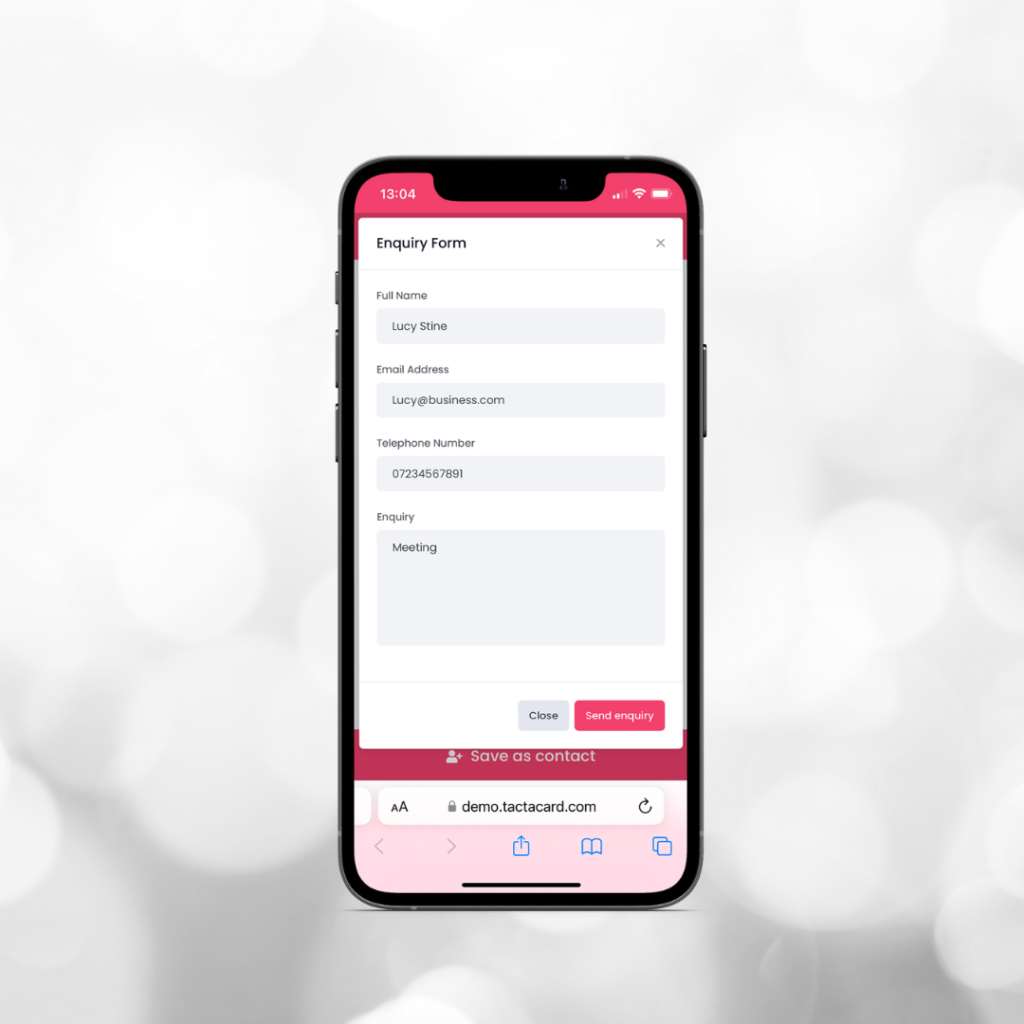 Add your Card to your Phone Wallet
Tacta NFC business cards are the perfect way to share contact information quickly and securely with the modern world. You can now add your business card to your phone wallet, meaning if you ever forget your Tacta card, you can share your details directly from your phone.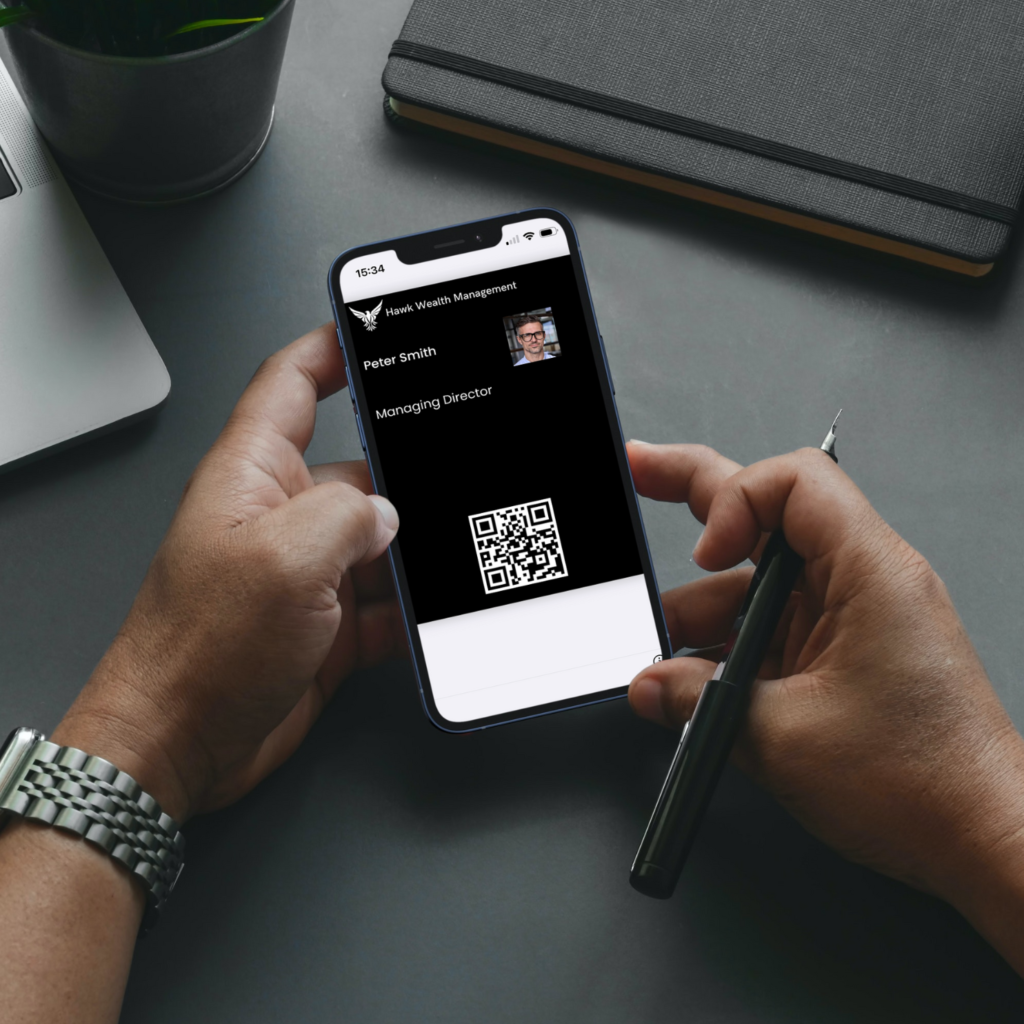 Easily Share your Information
Using Near Field Communication (NFC) technology, Tacta cards allow users to send their contact information to other devices with a tap. If you do not want to use the NFC feature, all Tacta business cards come with their QR code, which any smartphone camera can scan to access the user's business card directly.
People no longer need to worry about losing their business card when you present a Tacta card to them. Created exclusively for entrepreneurs and businesses, the Tacta card is the most innovative way to encompass all necessary information, such as contact details, website and social media links, in one convenient card.